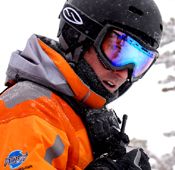 Dave "Swany" Swanwick / Founding Member
// COO & Co-Founder of Mountain Sports International //
Dave Swanwick was born and raised in Manhattan and attended the University of Vermont where he received a degree in Political Science and a minor in French.
Upon founding MSI, Dave initially focused on business development via his industry connections as a World Extreme Skiing Champion. His experience as a professional athlete and heli-ski guide has brought an invaluable perspective to MSI's event production. As the company grew, Dave focused his energy on operations, overseeing or managing the production teams on virtually every MSI project.
Over the past several years, MSI has created a strong team of project managers who manage their respective teams, allowing Dave the time to focus on new project development.